Updates
Thanks to all who donated to BCB for KY Gives Day on #GivingTuesday! We sincerely appreciate your support!
KY Gives Day is on #GivingTuesday December 1st! from Bluegrass Council on Vimeo.
Thanks to A Cup of Common Wealth for letting us be the featured nonprofit of their 10% day in May! And thanks to Mayor Gray for stopping by to be a celebrity guest barista!
Pictured left to right: Jeff, A Cup of Common Wealth; Mayor Jim Gray; Alexandra, A Cup of Common Wealth; Ty Thompson, BCB Member; Wesley Holbrook, Assistant to the Mayor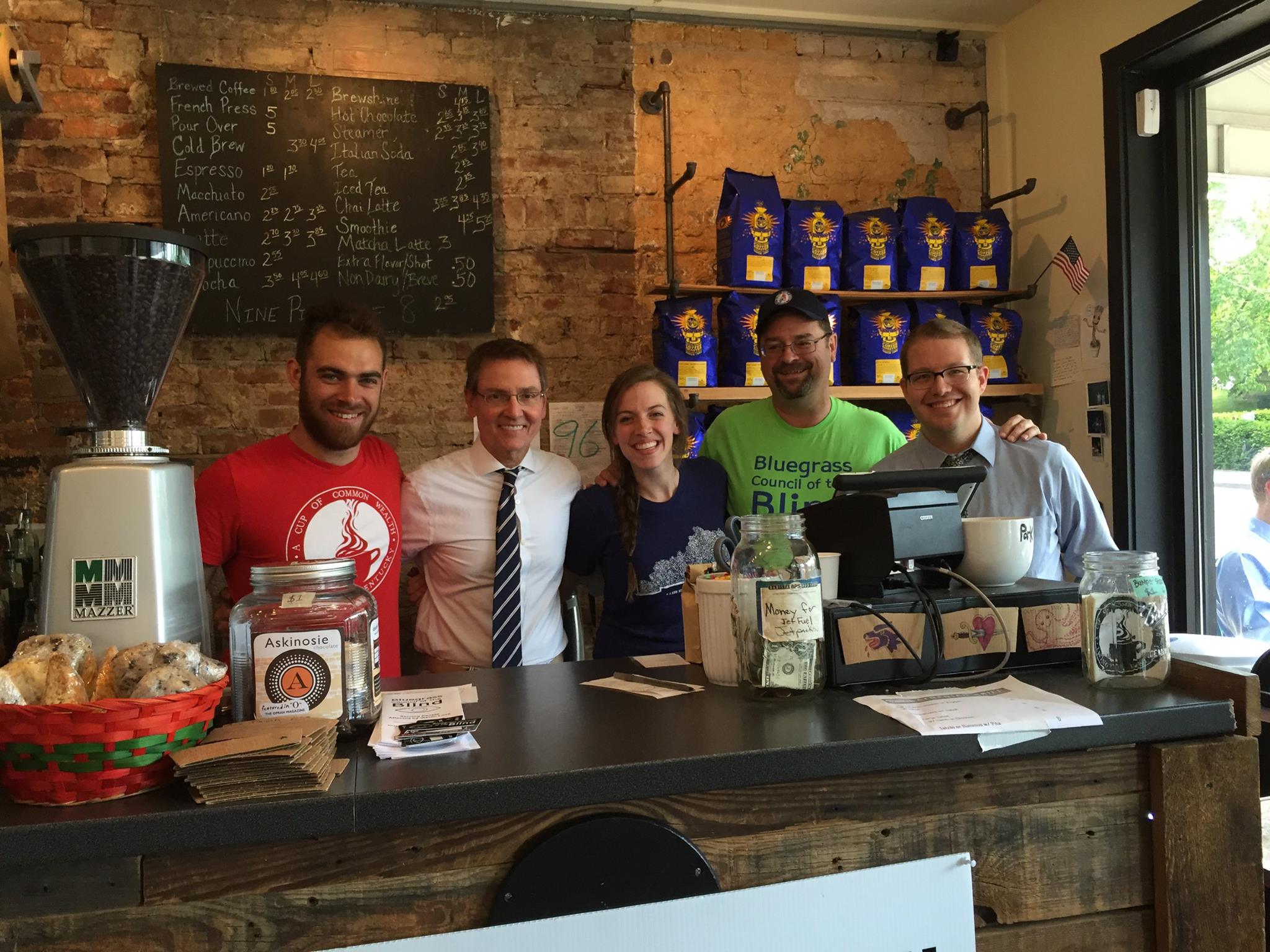 Bank On Bluegrass helps you responsibly manage your finances
Bank On Bluegrass is a community program designed by United Way to help individuals open a bank account who have had difficulties getting an account or keeping an account open in the past.
Why Open an Account?
If you don't have a bank account, you could pay up to $40,000 in fees over a lifetime. When you have a bank account, you can build a positive credit history, pay your bills online, or with a check for free, and eliminate the risk of theft or loss.
How to Open an Account?
1. Call 2-1-1 or visit www.uwbg.org/BankOn to learn more.
2. Learn about banking basics online, through our financial education partners, or personal bankers at a participating bank.
3. Open your Bank On Bluegrass account! Bring a state-issued ID. Most financial partners will also request a second form of ID.
Where Taxpayers With Disabilities Can Find Online Help from the IRS
It is Tax Season! American Council of the Blind has compiled a page with tax information and resources for persons with disabilities, all of which are helpful audio described video and web links from www.IRS.gov including braille, text, PDF, large print and HTML tax forms, instructions and publications.
Go to www.acb.org/IRS to know more.