Anyone who is a current 2015 BCB Member may submit to the Members' Corner webpage. It will be reviewed by a staff member or volunteer for approval. Please keep in mind not all submissions will be approved. Email your submission to info@bcbky.org. This webpage is reflective of personal views of individual BCB members and does not necessarily represent the views and opinions of Bluegrass Council of the Blind, Inc.
Membership Brochure in Microsoft Word
Membership Brochure in PDF Format
Stony's Christmas Poem

Submitted by Martin Smith  

This is your Christmas card, so listen up here,
I thought of doing something a little different this year. 
Listen up now and do it real quick,
all this lovey-dovey crap is making me sick. 
I have a plan that can't possibly fail,
so here it is wrapped up in a cute little tale.
The night Santa slipped from a roof,
he hit the ground feeling sore, angry and aloof.    
Santa thought as he laid in the snow,
"why don't I quit; just get up and go! 
The curmudgeon inside was feeling no better,
as he sprang from his bed to grab a sweater!
The grouchy old dude
was mean, nasty, and rude. 
He steps from the house and into the snow,
what's going on out here," the grump wanted to know? 
"I was just getting in bed and heard a sound,"
when I spotted something red and black lying there on the ground.    
Raising his head and forgetting his plight,
"Santa asking, "What is your problem on this crisp winter night?"  
The man stops, froze in a pause
before realizing this was dear old Santa Claus! 
He becomes friendly like Casper the ghost,
"I'm sorry Mr. Claus, I'll help you up and be your host!"  
Still reeling from his slippery fall,
Santa growling, "just dash it all!" 
Santa's temper beginning to flare,
while calling his reign deer from out of thin air! 
Climbing aboard his Christmas ride,
he calls them by name… "Come on Dasher, Dancer and Clyde!"    

The moral to the story is easy to see, 
but some out there, may not be as smart or clever as you and me.  
Be friendly to all, no matter who you meet, 
not just your family and friends, yes… even the bum in the street.  
We never know for sure about the people we talk to, 
all we really know is…"SANTA'S WATCHING YOU!"


By Stony D. Rock

**December 2017**
Heavenly Gifts
Submitted by Keisha Browning
Heavenly Gifts Even though I cannot see my vision is still clear,
My earthly eyes lie in the hands of the Lord,
To replace my earthly sight He gave me a gift,
A gift that few may know.
He gave me a heart, so that I may see,
Into the souls of those around me.
A gift of love He has instilled in me,
So that I may give it as freely as can be.
Other's pain I hate to see,
Because of God's love that flows through me.
It is my wish that the world would see,
That earthly sight is not the way to see,
Open up their hearts so that they may know,
How the love of God can Flow
*March 30 2002*
Charles A. Sidney (Cool Sid), passed away on November 8, 2016. We will miss our good friend and BCB Board Member!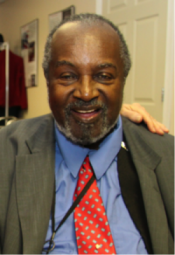 Below is an interview with Charles by Susan Ament:
Longtime BCB member and current Board Member, Charles Sidney credits his friend, Andrew Thomas, for getting him involved with BCB. As an African American, he felt it was important to represent the black community and serve as a role model for others. Charles said Andrew told him, "We need another brother on board." According to Charles, "Carol Porter put my name in, and I've been here ever since."
Charles doesn't remember the exact date he became involved with BCB, but he does remember the time he lost his sight. It was in the summer of 2003. His doctor had told him he would eventually lose his vision due to a hereditary disease, but when it happened, he was not prepared for it. Charles recalls getting into his car, starting it, and suddenly he had no sight at all.
Charles is fond of BCB because of its education and Peer Support Program. "It lifts people up as they are going through changes. It gives them a boost to know there is help out there somewhere and makes things more convenient for them." Charles is quick to offer an encouraging word to others, and he also believes that by helping others, you help yourself.
Although Charles may have initially been motivated to represent a minority community, his words and actions as a Board Member apply to all concerned. When asked what advice he would give to new BCB members, Charles had this to say: "Come and get aboard….Step up to the plate….Practice what you preach….Pay your dues and we will let them know how we can assist them and try to make things better for them also."